Shire Agency of Technology and Science
From The Shire
Build Name Here is a build in a specific part of The Shire. More basic build info, perhaps also a picture.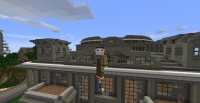 Overview/ Build History
The Shire Agency of Technology and Science (often abbreviated as SATS) is the Shire's leading agency concerning science and technology. Although not a country, the SATS has large influence on the world, in part due to its development and research of chemical and nuclear weapons of mass destruction, many forms of medicine, financial and banking systems, and nuclear power. The SATS employs over 560,000 people; around 300 thousand of the people that the SATS employs operate the weaponry of the Strategic Arms Force for Protection of Scientific Progress, or the SAFPSP. The SAFPSP is the largest branch of the SATS, and they control various nuclear and chemical weapons that, according to the SATS, "are used for eliminating threats to the progress of technology and science." Harsh critic Erin Otenberger has said otherwise, stating"
"It's quite frankly bullshit that the SATS uses the SAFPSP for eliminating threats of progress; I, and many others who have been conned by that agency, would say it's a tool for eliminating the innocent, brilliant people, who haven't been brainwashed by the SATS, who said Isn't it quite sketchy that the people who have some of the deadliest chemicals in the world love to joke about this stuff on national tv?"
Erin Otenberger was later found dead in an apartment in Caffa with two lesbian hookers, who were both shot too. Her death was labeled a suicide, but many critics say that the attack was planned by the SATS.
History
Era
First part of your build history.
Era Two name here
Maybe you had more build history? Put it here.
Era Three name here
Ah, history.
Notable Location in build name here
Bullet three: info (note: you can add more than three if you want to.
References
If you've got references, you can add them here I guess...
This concludes the template.