Oranje County
From The Shire
Oranje County is a county just east of Mainland. The county seat and largest city is Oranjestad.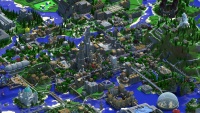 Oranje County is included in the Mainland Metropolitan Area. Oranje County is the cultural and economic center of east central Oldeshire.
Occupied for thousands of years by cultures of indigenous peoples, Oranje County was organized by modern-day Shirelings on December 17, 1823. The county is named for an indigenous term 'Ojasten', meaning "where there are trees standing in the water". Oranjestad (then known as Orangetown) was chosen as the county seat in May 1824.
Municipalities
Homestar Port
Shai-Ling
Budapest
Skylan (Abandoned)
Ghastreach (partial)
Carvenhall (partial)
Subregions
Transportation
Oranje County is crossed by three major highways and is interconnected to the surrounding counties by 18 different links, including tunnels, bridges, and rail lines.
The county has 8 STA-designated rail stops. Oranjestad also maintains their own rail system, the Hyperloop, with 9 unique stops.
At the county's northern edge is the Oranjestad Dockyards, which transports goods across the world.