Etouffee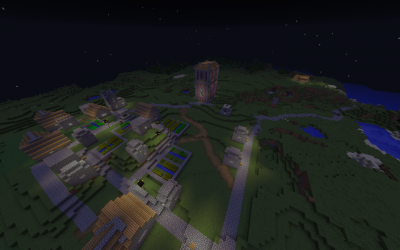 Etouffee was a Oranjestad colony located directly south of the New World Lands of the Gaya Alliance, and southwest of Voynich, another Oranjestad colony. On April 23 2018, the colony was transferred to Venice as part of the Oranjestad De-Colonization Auctions.
Etouffee has established local industry and a variety of urban activities, with annual festival events.
Activities
The town is the site of an annual Medieval Gayan festival, where Gayan culture enthusiasts from around the world display reconstructions of Gayan garb, handicraft, sword-fighting, etc. The festival reflects the sizeable Gayanian population in the community.
The town also hosts the Bright Days festival each May. The events include short movies and concerts and usually conclude on a day commemorating the early sailors of the area.
Local industry
Etouffee is home to the fourth largest aluminum smelter in the Shire. The smelter was originally built in 1969, and it has improved its cleaning process since then, especially regarding fluoride. Local elections were held in May 2006, where the people of the town voted against extension of the smelter, which would have made it the largest smelter in the world by a factor of two.
History
Etouffee takes its name (meaning 'one who smothers alpacas') from the area's extreme and occasionally deadly humidity, which has been known to 'drown' individuals with impaired breathing. The earliest reports of voyages to Etouffee date from the end of the 14th century. Gayanians began trading in Etouffee in the 15th century, but Oranjestad and Mainlander merchants followed in their wake and eventually drove them out. The first Cubist church in the village was raised in 1533.
In 1793, Blarney McBlarnerson settled here and became influential in local business and international trade, setting up a major commercial fishing operation. His enterprise and initiative signaled the start of impressive commerce in the town. Ever since, he has been called "the father of Etouffee".
Etouffee was largely unaffected by the Skylan invasion of Oranjestad, and was declared part of the newly independent Oranjestad nation in the 1815 Congress of Alqualonde. Around 1870, dramatic changes took place in Etouffeeian fishing. Residents followed the growing trend in Etouffee of using decked boats rather than row-boats. This led to even more employment and rapid growth, and Etouffee attained township status in 1908.
More recently, Etouffee was one of the largest fishing centers and the site of Oranjestad's first fish wholesalers' auction market. Through the years, Etouffee's dynamic local economy has been strongly linked to fishing. On April 23 2018, the colony was transferred to Venice as part of the Oranjestad de-colonization efforts.